Skip to Content
Stylish and Durable Epoxy Floors in Jacksonville & St. Augustine, FL
Custom Floor Coating provides long-lasting epoxy floors in Jacksonville & St. Augustine, FL. Transform your concrete floor with a high-gloss showroom finish. Epoxy flooring offers excellent resistance to chemicals, water, and mechanical wear. It can withstand heavy-duty environments and will solidify and seal your concrete floors to last many years. The coating creates a protective barrier that prevents scratches, dents, and stains. Epoxy is ideal for large spaces since it provides high-impact resistance and is tough enough for frequent traffic. It also boosts brightness for improved visibility.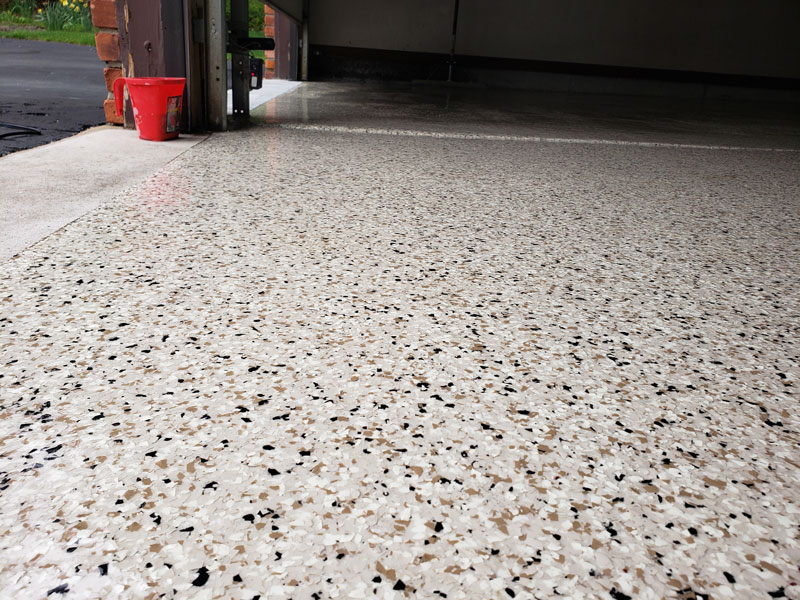 What Is Epoxy Flooring, and Where Can It Be Used
Epoxy flooring is a type of synthetic resin floor system laid on top of concrete to provide protection and decoration. This durable surface is made of several layers of thermosetting that are coated, troweled, and poured onto concrete in layers. Once these layers cure, the system creates a permanent bond, forming a protective barrier. The following are only a few of the possible applications for epoxy flooring:
Bars and resorts
Basements and bathrooms
Clinics and facilities
Decks and driveways
Elevators and entrances
Garages and storage
Offices and reception areas
Restaurants and kitchens
Schools and complexes
Shops and showrooms
Professional Epoxy Coating Made to Last
We offer process-driven, affordable concrete floor coating with 100% solids. Epoxy flooring adheres to the concrete floor, providing a high gloss finish that is tough, durable, and easy to clean. We apply a high-quality topcoat to resist wear and tear. The topcoat is chemically harder and more robust than the underlying epoxy to keep your floors looking as good as they did when they were first installed. The coating can be refurbished to look brand new without replacing the base surface. Good quality epoxy and proper floor prepping to help your floor coating last up to 20 years.
Schedule a Free Quote Today