Skip to Content
Durable Floor Coating Epoxy Flakes in Jacksonville & St. Augustine, FL
Custom Floor Coating installs floor coatings with epoxy flakes in Jacksonville & St. Augustine, FL. This versatile product is an ideal application for both interior and exterior concrete floors. Epoxy flakes add color and texture to floors, garages, and workshops. The vinyl chips are blended with epoxy in a random design, providing a permanent and seamless coating. This economical solution looks stunning and doesn't peel or fade. When the coating does start to wear, it can be easily renewed with a new topcoat. The randomized pattern creates an abstract, granite appearance.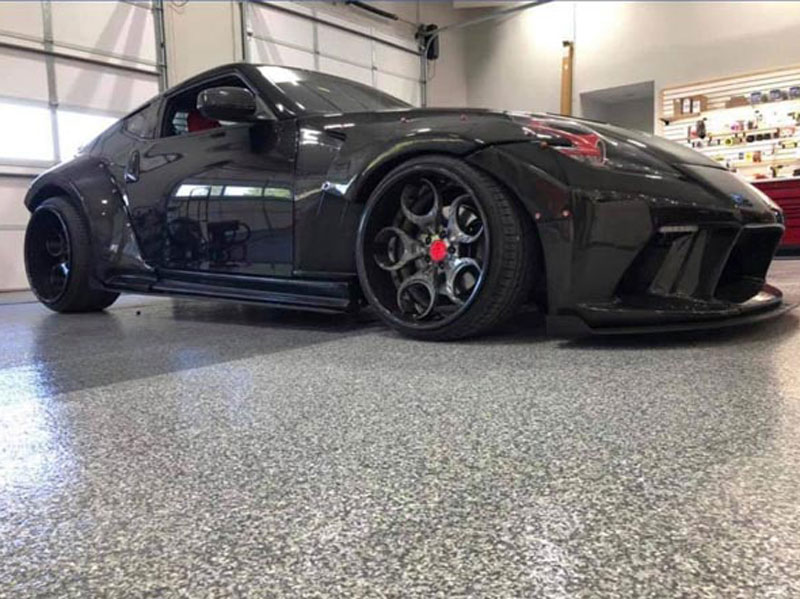 What's Included in Our Service
We follow a proven, practiced application and installation process to ensure long-lasting results that look and feel good for years. Our professional flake floor services provide you with durable, attractive floors with meticulous attention to detail and quality that lasts. Our services include:
Full machine grind – We provide nearly dust-free floor preparation with professional concrete grinding equipment.
Crack repair – We fill and repair crack and spalls free of charge before applying the base coat.
Base coat application – Our moisture vapor barrier hybrid epoxy prevents delaminating.
Full flake broadcast – Next, we broadcast decorative vinyl chips over the wet basecoat.
Scraping the floor – Once dry, we shave the floor smooth with 12-inch scraper blades and clean the excess flake.
Non-slip polyaspartic topcoat – Lastly, we apply an anti-microbial topcoat made from 91% solids for a finished surface that is UV proof, non-yellowing, and easy to clean.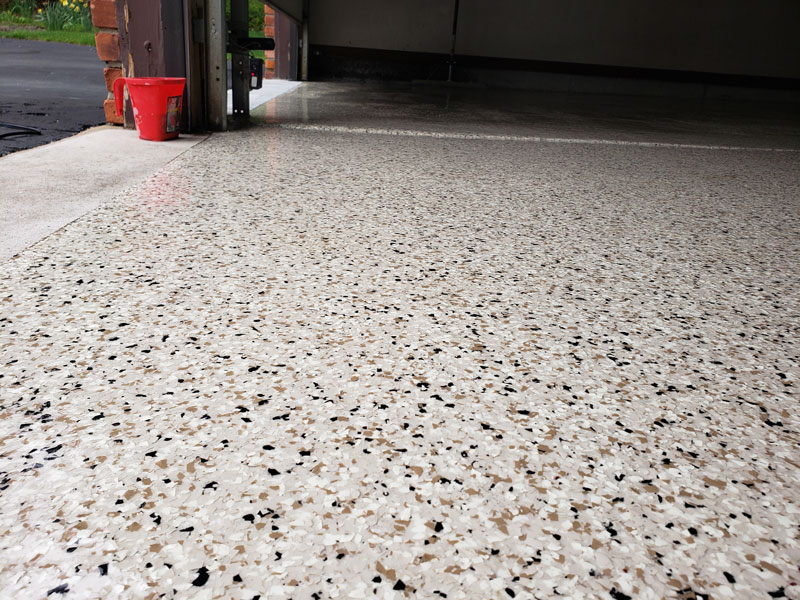 Benefits of Flake Floor Installations
Flake resin-coated floors are easy to maintain, improve traction in your workspace, and increase safety. They provide unmatched resistance to chemicals and abrasion. Maintenance of flake floors is simple. They can be easily cleaned with soap and water. When the coating starts to wear, the flooring can be renewed by applying a topcoat to restore its original shine. The materials are germ and moisture-resistant and provide sound-minimizing insulation. Enjoy garage projects and complete shop activities with this unique anti-slip surface. Flake floors help to:
Enhance home aesthetic
Provide added durability
Add custom texture and color
Increase safety with slip resistance
Endless Color Combinations
Our custom garage flooring comes in a wide range of color options. Colors can be mixed to produce an endless array of possibilities. The vinyl chips blended into the epoxy come in custom colors and help camouflage damage and stains. Our combination of resin, filler, and pigment provides customized texture to your indoor or outdoor space. This surface is durable and can be driven on. The flakes add randomized shapes to enhance a coated environment. Improve the beauty and value of your space with unique patterns and custom sizes in your color of choice, including pre-mixed options and metallics.
Schedule a Free Quote Today